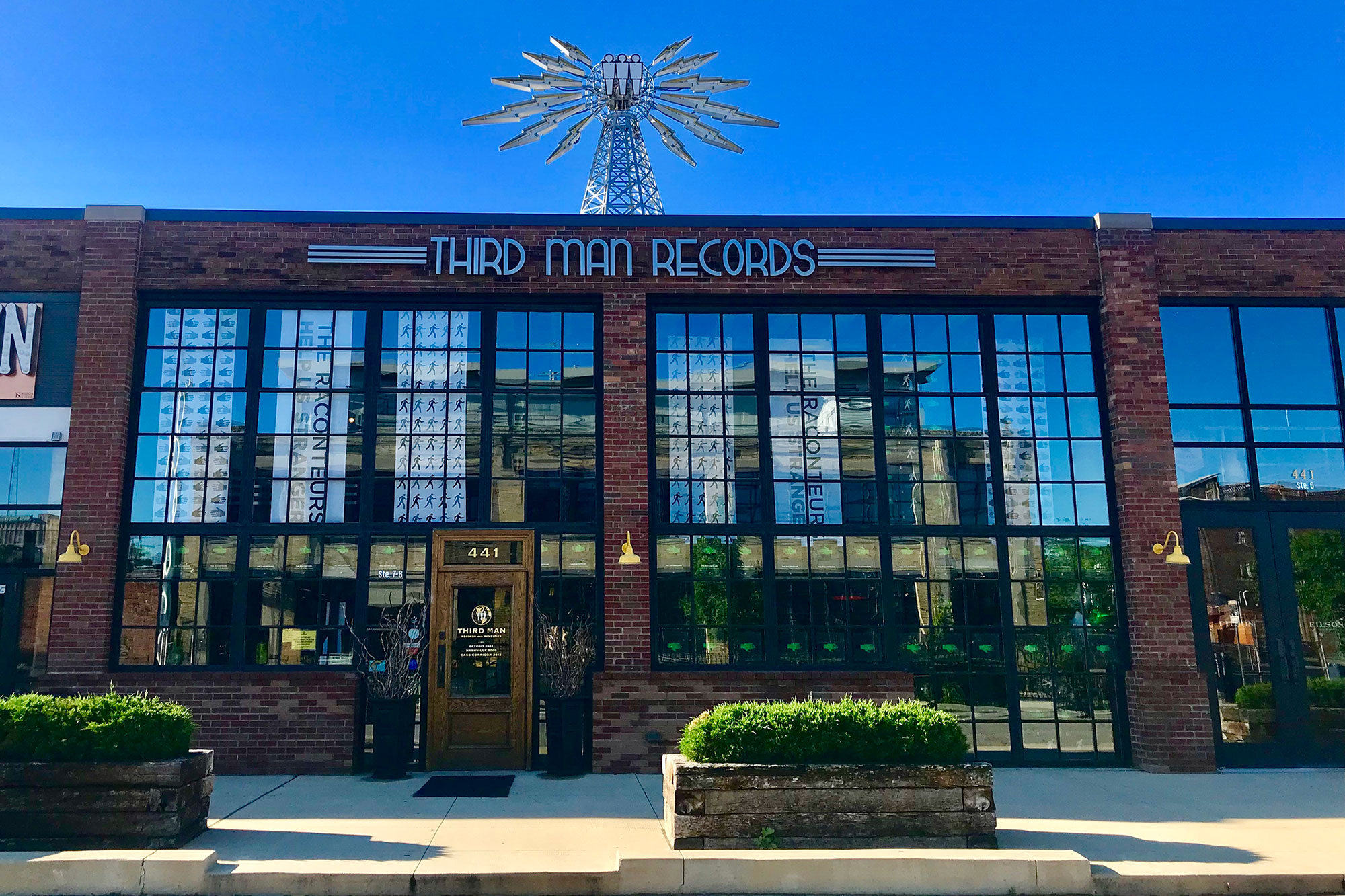 Third Man Records Headquarters Detroit, Cass Corridor
In Detroit's Cass Corridor neighborhood sits Third Man Records Detroit. The more than 15,000 square foot Jack White designed location houses TMR's second retail location and label office along with Third Man Pressing vinyl manufacturing, and the Third Man Mastering studio.
In 2015, White bought the former 1920s Olds Motor Works Service Center building at 441 W. Canfield and immediately began conceptualizing a design to transform several spaces at the Detroit site. This would give TMR its first physical footprint in the city, White's largest single location design project to date.
The storefront exterior is an arresting facade of all early 1910's Packard plant factory casement windows that White had restored to fill the original brick surrounding structure…. an almost 30-foot vertical glass and steel stretch leading to a custom rooftop neon TMR Tesla tower with glowing lightning bolts.
Entering Third Man Detroit is a surprising threshold moment. Visitors enter through an all-steel frame and yellow tinted glass vestibule structure sitting atop a low curved yellow glazed Pewabic tile wall that quickly leads you into the expansive 18-foot ceiling former industrial interior. White's vision to design multisensory spaces for Third Man locations is fully realized in the 4500 square feet of retail space. Over 40 different architectural finishes make up the visual design experience mixed with product, vintage and custom furniture, a live performance stage and custom steel mezzanine that accentuates the scale of the interior.
During the opening of the Detroit store in 2015, it was announced that Third Man would also be opening a vinyl manufacturing facility directly behind the retail space. White was adamant about creating a literal light at the end of the tunnel, a long hallway to be discovered by visitors that led people back to an all-glass atrium overlooking a soon to be 11,000 square foot custom vinyl pressing plant. The mission was to build it, let people stand in it and if they can watch, hear, and smell the records being made, we will instill the emotion of reverence for the medium of vinyl.