Born in Detroit in 1975 and currently residing in Nashville, Jack White is an interdisciplinary artist, equally as conversant in sculpture and upholstery as he is in music and songwriting. Exposed to both mid-century modern design and the local Detroit Cass Corridor artists like Gordon Newton and Robert Sestok from his work apprenticing under master upholsterer Brian Muldoon, White would take those seedlings of inspiration and go on to open his own upholstery shop, Third Man Upholstery, in 1996.
Housed in the artist-friendly Pioneer Building in Detroit, White would not only run his business from the location, but also utilize it to work on sculpture and songwriting. Upon his closing of the space in 1998, he left a ceiling beam scrawled with the message "Jack White was here and part of him will never leave."


While White's sculpture and upholstery have largely been confined to private work over the past twenty years, he's further explored his design muse via his Third Man Records umbrella. Whether interiors, visuals for print, photography, industrial, film or literally any combination of the bunch, White designs with purpose, with conviction and with passion.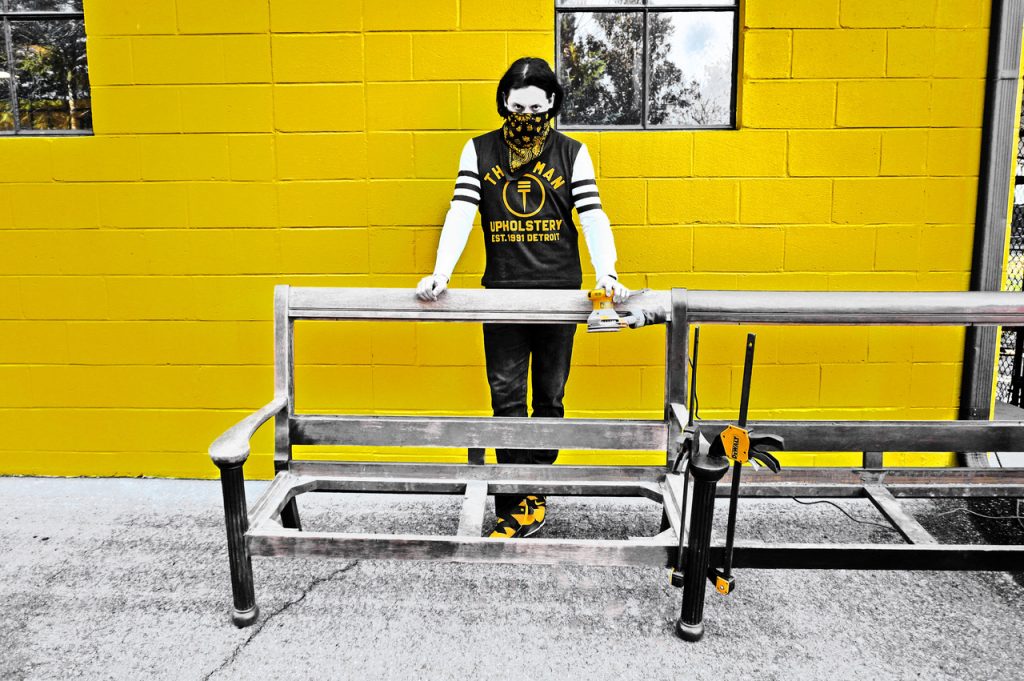 ---
To work with Jack White, to watch him work at anything…is to witness the mind of an artist as it explores and problem solves.
As I click through the images here, I can't help but feel so incredibly reminiscent of the time and spaces they were created. The dog house for Brick, the canine with a thousand yard bark, the pictures here don't do it justice. The green paint used here was downright ELECTRIC in person, lighting up the Southwest Detroit backyard he commanded with his presence.
The rudimentary floor fan for the upholstery shop – complete with artillery armaments on the outside – clearly from the childish imagination that'd spent plenty of time playing war games in the same backyard where an electric drill would later turn said turbine into a cooling mechanism.
That same backyard would house a virtual motorcade of discarded Little Tikes coupe cars. The yellow-top, red-bottom playthings were omnipresent in the bulk garbage piles in the city of Detroit at the time…as if one year, '96 probably, they all just decided to break. While just about everyone else garbage picking at the time would look right past them, Jack saw these cars, saw his everyday struggles with his own automobile, and made the connection between the two.
While never fully realized, the idea behind the Planned Obsolescence sculpture is objectively brilliant. Jack's idea was to take these plastic toys, so easily discarded and readily available, mount them on to rectangular forms painted a high gloss black, writing on them, clear as day "Planned Obsolescence" and then mount said pieces in a guerilla manner to the freeway overpasses that criss-cross the city like stitches on the face of a 1950's hockey player.
No joke, hand to God, there were probably thirty coupe cars, in various states of disrepair, piled up in the backyard on Ferdinand. While I still feel a bit of regret they were never deployed, I cannot argue with the music that was prioritized over the campaign.
In carpentry and interior design, being in Jack's presence during the ideation process, the hypotheticals and head tilting, can be both inspiring and maddening. There's no reason a building needs to have acoustical tiles, tin ceilings or shiny yellow floors. But that's not the point. The point is to make something beautiful. Any myrmidon can buy a building and start running a business selling chicken feet, but to take an empty space, to envision what you'd like it to look like, not just visually, but spatially, texturally, experientially, and design into that vision, making and taking the occasional left turns, keeping architects and contractors on their toes and folks like myself, who have to find the kind way to say "No Jack, I don't think a fog machine would be a good idea for the pressing plant."
And then to hear him explain it, with a viewing window, the public looking in, tight spotlights over each individual record press, calling the beauty and the cinematic quality he wants to highlight in this situation…most of the time I find myself saying "When you put it that way, it does sound pretty impressive."
Ben Blackwell
Third Man Upholstery: 1996 – 1998
Third Man Records: 2001 – present
---
ELSEWHERE