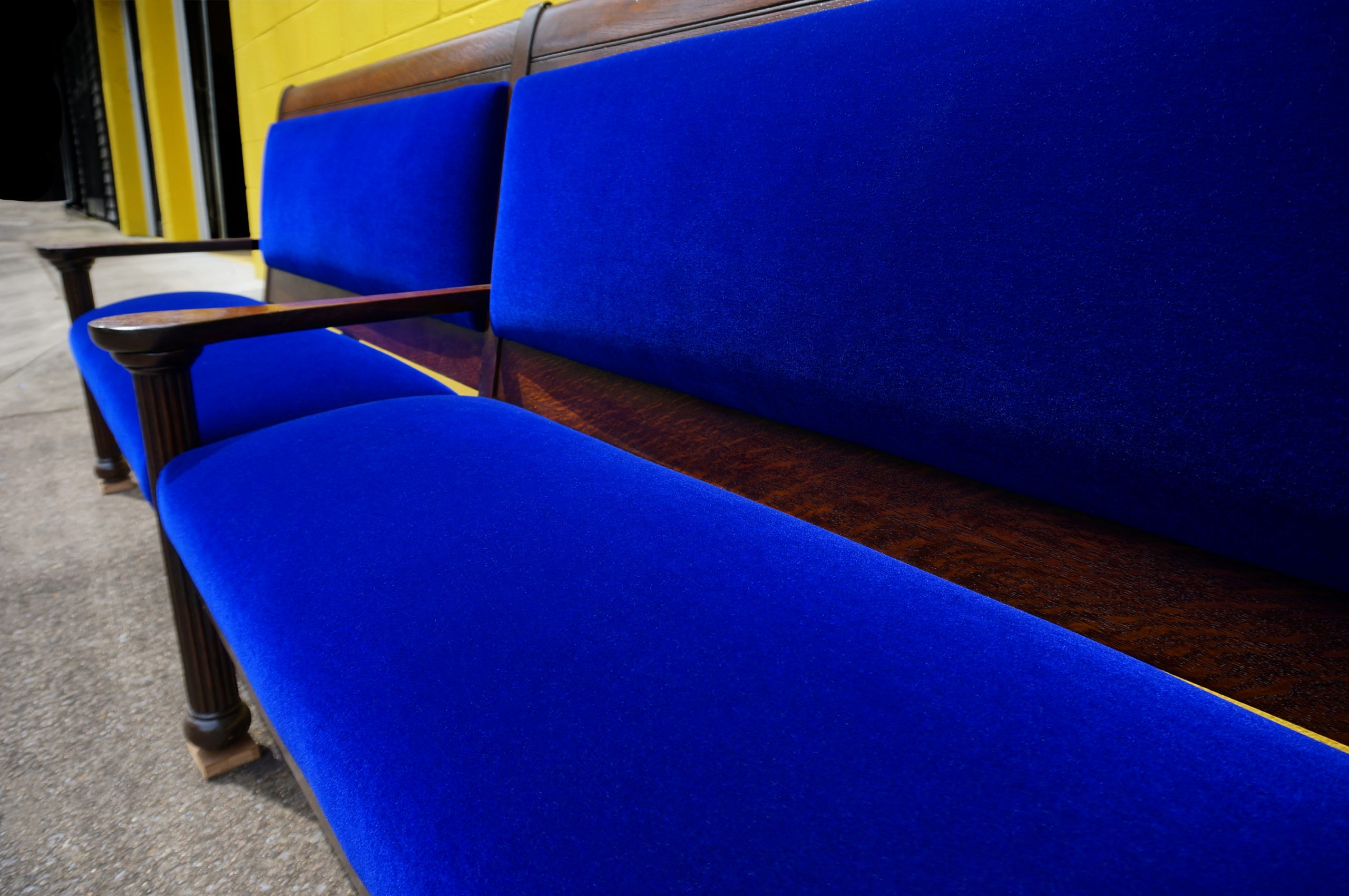 This furniture project was born out of a long standing desire for Jack White to give a gesture of thanks to an old friend and early midwest musical companion Johnny Walker of the Soledad Bros. Johnny currently co-owns the studio "The Lodge KY" in Dayton, Kentucky which is housed in a historical former Masonic Lodge building. Jack was able to procure an antique bench that was rescued from a different closed down Masonic Temple at auction and the project began.
The bench was stripped of its former fabric, padding and foundation work, and sanded completely down. The loose joints of the wooden frame were all knocked apart and re-glued. A deep brown stain was mixed from three different shades to provide a desired depth and a top finish of shellac in multiple layers was added to bring out the beautiful quarter sawn oak lines in the wood. Jack built brand new poplar upholstery frames for the inside backs of the bench as well inspired by the hoodwinks used in Masonic ceremonies.
To match the beautiful blue carpet and drapery of the main studio tracking room, which itself were design remnants from its days as a masonic lodge ceremonial chamber, Mr. White chose a gorgeous deep blue mohair fabric for the piece.
No modern foam padding was used in the piece, instead Jack kept it as originally styled as possible underneath the fabric with metal springs, hand placed coconuet fiber and horsehair foundation, covered with cotton padding. The bench seats and backs were upholstered first in a white muslin and then a final layer of padding before the mohair top finish fabric.
"My Sonic Temple" like its namesake and the Masons themselves contains many secrets, Some of which are obvious to the keen eye, and some of which will be hidden and possibly never uncovered. Some of it's secrets were made known to the recipient/client Mr. Walker, but not all. The largest and most accessible secret however is the ability to plug instruments and microphones into the bench itself for the purposes of amplification with the addition of strange and curious effects that can not be turned off and do not ever repeat themselves but take on a random and mysterious pattern in homage and accordance to the secrets contained in the Lodge itself.